Power chains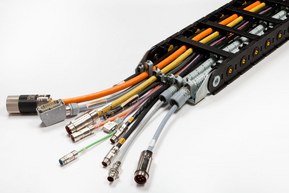 The requirements for power chains are becoming increasingly varied and demanding. While processing speeds are getting higher and higher, the curve radii are getting ever smaller, and then the material must be highly durable.
Lapp Systems GmbH designs individual power chains that guarantee flawless and reliable guidance of flexible supply cables to moveable machine parts. We only use certified branded products for this.
Our specialists work in a customer-specific way and offer system solutions for almost all application areas. Together with our customers, we analyse and test the individual system properties and develop suitable solution mechanisms based on these findings. Customised and cost-effective.
Assembled in our own plants, we produce and test the complete energy supply system before it is put to use. Whether it's an individual or customised application, we take care of assembly and commissioning on-site and offer you comprehensive support following installation. For peace of mind and smooth operation.