Spiral cable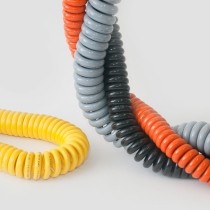 Lapp Systems GmbH is the leading manufacturer of spiral cables. Whether it's for industry, for device connections or for customised assemblies – we have the right cable to suit every application. Each area places different requirements on the product in question:
Industry seeks a high level of restoring force and dimensional stability. For this we assemble high-quality spiral cables with PUR outer sheaths, which can be used as control cables in moveable components or for power supply in motors, for example.
In terms of device connection cables, we produce spiral cables with PVC and PUR outer sheaths for the lighting industry and for other standard applications.
We are particularly proud, however, of our individual customised applications, because even our extensive product range has its limits when it comes to extreme requirements. As a member of the LAPP Group, we are in a position to overcome this very easily. With our in-house development team and cable plant, we can develop, produce and spiral cables specifically to customer requirements. Even cables with integrated compressed air hoses.
You would like to adapt a spiral cable to your requirements? Our contact person will be happy to answer any questions you may have.