System assembly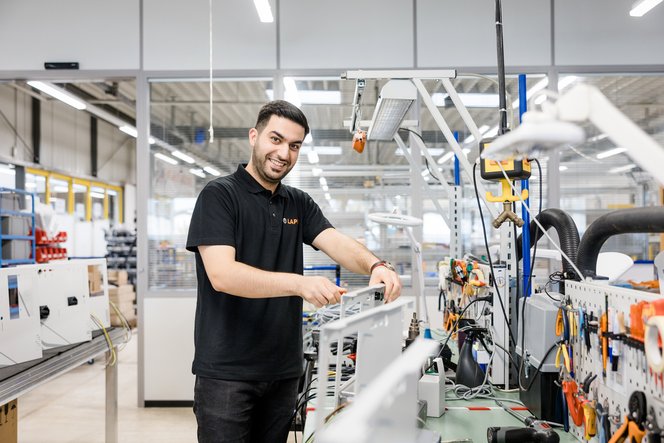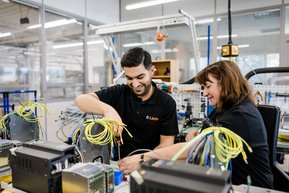 Cable systems, individual control cabinet solutions and fiber optic systems.
At Lapp Systems, we are continuously developing our business and our offer. Our designs and solutions are always created in close cooperation with our, often very long-standing, customers.

Flexibility and high quality standards pave our work
As a certified and regularly audited company of the global Lapp Group, we work with clear processes and high quality standards. Nevertheless, we are agile enough, to react flexibly to our customers' requirements.

LAPP Group strength globally and locally
In addition to our own production facility in Much, close to Cologne, we also have production carried out in the Eastern European plants of our group and at selected extended workbenches in Germany and abroad. The close integration into the LAPP Group allows us short distances and quick coordination, which is why we use LAPP cables and connectors for the most part in our customer-specific solutions, although we are not limited to this product range.

One stop shop
We offer you everything from a single source: conception and feasibility study, engineering and design, prototype construction and production, as well as testing and quality assurance.
Sales team at your service
We work across all industries and have decades of experience in mechanical and plant engineering. If you have any further questions, please contact our sales team, we will be happy to help you!
Bernd Weikert
Head of Sales & Industrial Engineering
+49 2245 916681
Bernd.Weikert@lapp.com
LAPP Branded products - quality with our core products
ÖLFLEX® connecting and control cables
ETHERLINE® data communication systems
EPIC® industrial connectors
SILVYN® cable protection and guiding systems
UNITRONIC® data communication systems
HITRONIC® optical transmission systems
SKINTOP® cable glands
FLEXIMARK® cable labelling