Generation transition at LAPP
The Stuttgart-based family company LAPP will be managed by the third generation from October 1, 2022.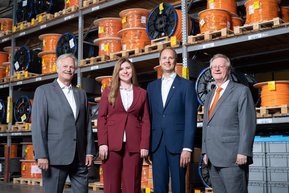 Matthias Lapp (39), grandson of company founder Ursula Ida Lapp, will take over as CEO of Lapp Holding AG. His uncle Andreas Lapp (66), Chairman of the Executive Board, and his father Siegbert E. Lapp (69), Chairman of the Supervisory Board, will retire from the operational business of the LAPP Group on September 30, 2022. At the same time, Katharina Lapp (24), Andreas Lapp's daughter, will be appointed to the Supervisory Board. This means that one family member will continue to be part of each the Management Board and the Supervisory Board: LAPP remains a family business.
Please find the corresponding press release here.